Mini Thank You Notes
Welcome to another challenge on the 3 Girl JAM Challenge Blog. I have a really simple little card for you today, but first lets talk about the current challenge.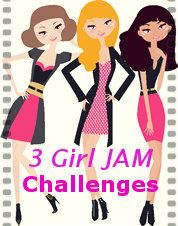 We are being sponsored by the Cutting Cafe.
This week's challenge is a Thanksgiving Color Challenge using ribbon.
Isn't this a beautiful color palette? Be sure to link up your Thanksgiving project for a chance to win a prize.
Now to my project. I decided to make a very simple little card for you today. Why simple? Because I wanted to show you how easy it is to use the images at the Cutting Cafe (and because I made 60 cards). I grabbed some
Coral Crush
and
Witches Brew
ribbon from 3 Girl JAM. I also grabbed
this
printable set from the Cutting Cafe and was ready to start.
I also used Kraft cardstock from JoAnn's and green cardstock by Coordinations from JoAnn's. I re-sized the circles to 1.7" on my computer and used the one that was all black. I then printed the background paper in color. The scallops were cut with Elegant edges at 2". If you watch the video, you will see a couple of other versions of the card.
Now it's your turn. Are you ready to take the challenge? If so, link up below!
I am also linking to these challenges:
Thanks for stopping by. Remember to take some time to enjoy the little things.