I'm running a bit behind, but 3 Girl JAM announced it's new Design Team last Saturday. There a some familiar faces as well as a few new ones. Be sure to check the whole team out by clicking
{here}
. Julie has some fun things coming soon, so keep checking back. I can't wait to see the new products but don't want to give any spoilers.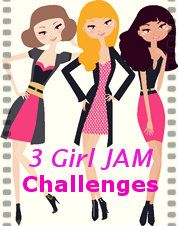 It's also time for a brand new challenge on the 3 Girl Challenge Blog. Julie has changed the format of the challenge blog and we will be running challenges for a whole month at a time. This month's challenge is "Anything Goes with Ribbon". There should be plenty of ways that you can enter this one, so come and play along.
The last thing that I wanted to mention is that Julie is also providing a discount code to use ANYTIME at 3 Girl JAM. Just use "CP10" to receive your discount. It's a great way to get some of the ribbon you love and save a little money.
Thanks so much for stopping by today. Remember to take some time to enjoy the little things.